In Victoria, we offer services to meet owners' compliance needs on a "subscription" basis (we call this our Safer Home plan) or on a "pay as you go" basis.
Subscription vs pay as you go services - summary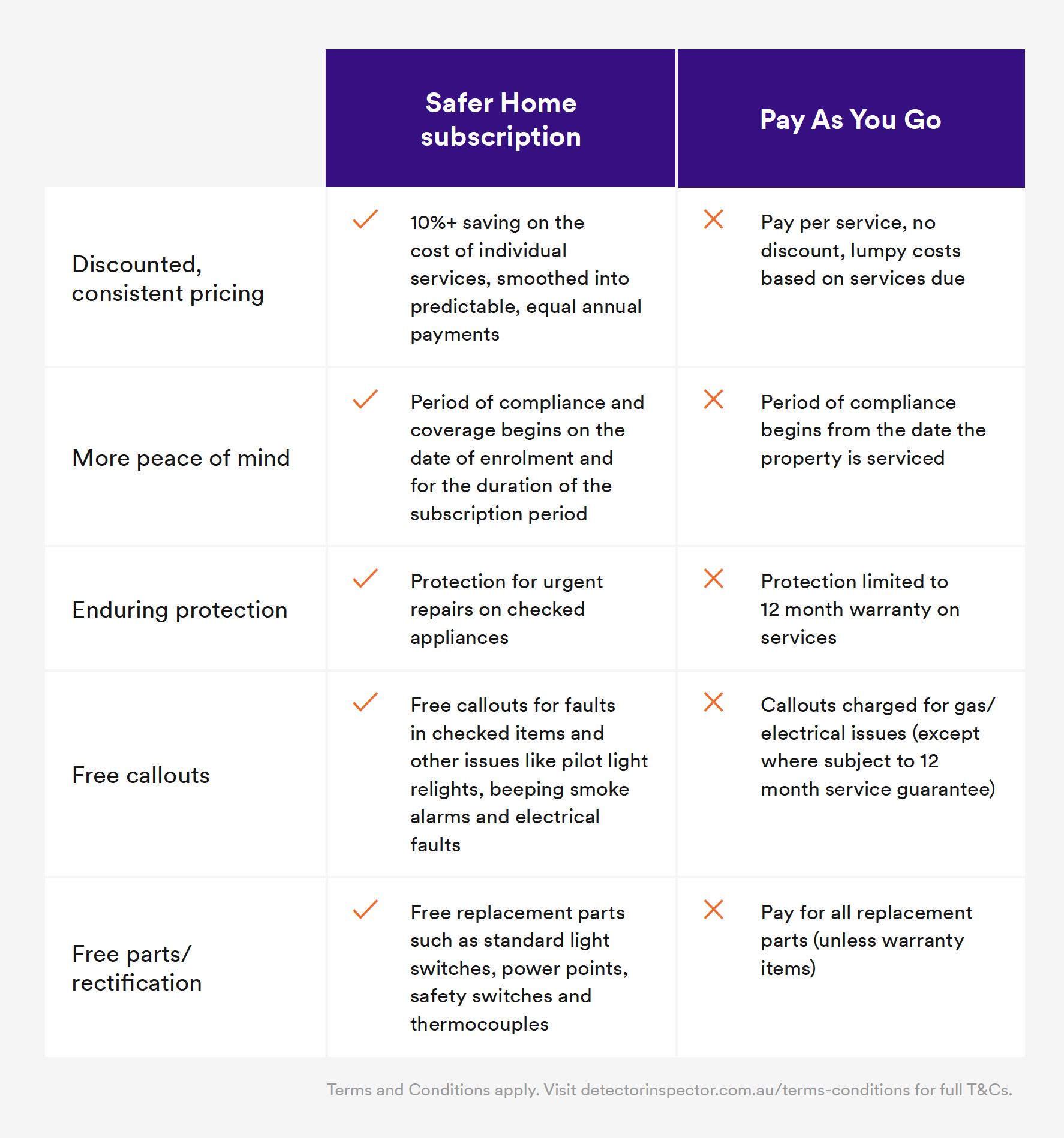 Pay as you go services
PAYG or pay as you go services are charged at the below rates for the individual services. The timing for delivery of those services is no quicker, but you do pay after we deliver the services. If there's an issue at your property prior to us visiting, we can attend, but there would be an additional charge. When we deliver the electrical service, as an example, we typically need to replace a number of light switches, safety switches and power points. Under a PAYG plan, these would incur further fees.

Subscription
In our Safer Home subscription, the fees are prepaid, there are bundled discounts and the services have a range of inclusions. While prepaid, the benefit is continuity of coverage and compliance. Under the Safer Home plan, you are covered and compliant from the date of enrolment.
Importantly, other than year 1, the annual recurring fee is the same each year, providing complete peace of mind that the property is protected for a low, predictable price.


Safer Home subscription plans include:
Discounted fees

Our Safer Home plans are discounted by 13% against the price of individual services. Multi-owner discounts of a further 5% are available if you enrol 4 or more properties. Own a block of 10 or more? The additional discount is 10% off the already reduced Safer Home plan pricing.
24-month warranty
We warrant our work for the full 24 months until the next safety check is due. Other companies provide a warranty only on jobs recently completed.
Free callouts
Free call outs are included in our Safer Home plans. Other providers charge at least $100 for non-urgent call outs and even more out of hours or on weekends. Saving you wasted costs for common faults like beeping/sirening smoke alarms, pilot lights going out, appliances breaking down and electrical faults is the right decision.
Free parts
With Safer Home plans, we include the cost of certain replacement parts, like standard power points, light switches, safety switches, smoke alarms and thermocouples. This means we can fix common problems on the spot, meaning no additional cost or hassle for you. For example, on average we're replacing $200 worth of electrical fittings in our electrical safety check. Other providers are charging for parts and labour. We're including this as part of our service. Common problems can be fixed without quotations review and approval, as well as repeat visits causing hassle for the tenant and potentially additional callout fees.
Consistent, predictable price
After the first year, you pay the same low annual fee and leave the management of your compliance to us.
Urgent repairs capacity
Under the RTA, where certain significant, defined issues occur at your property, the tenant can incur up to $2,500 in costs to rectify them, without your approval. For example, if their heater failed during winter and there wasn't almost immediate progress toward resolution, then they have rights to engage their own supplier. With our capacity, systems and processes, we're best placed to address these types of issues and avoid unnecessary cost to you.